Both of these I got from my Bestie Taylor at the
Undomestic Momma
...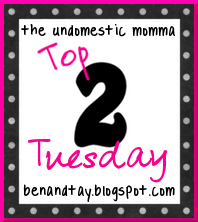 Today's Top Two Tuesday is random facts about you..
1. I lived in Texas all my life and no boy ever taught me (or asked) to 2 step with me. I tried to get my brother to teach me but that was back in the 'ewww I can't touch my sister' phase
So when I met my hubby I was 31 and he was my 1st and last 2 step partner. That boy went to AGGIELAND...so of course he knew what he was doing. I still get butterflies when he twirls me around. Something about a man in his boots dancing w/his girl
2. I love dipping Fritos in mustard.
Ok it said Random..it didn't imply that it couldn't be weird!
A B C'S OF ME
More random boring fun facts about me
A. AREA CODE : DFW area
B. BED SIZE: King..gotta fit the whole family in it :o)
C. CHORE YOU HATE: laundry..it's the putting away I can't stand
D. DOG'S NAME: Moses (after my hubby's first dorm at A&M)
E. ESSENTIAL "START THE DAY!" ITEM: Kiss goodbye from hubs as he heads off for work
F. FAVORITE COLOR: Pink
G. GOLD OR SILVER: Silver
H. HEIGHT: 5'5
I. INSTRUMENTS YOU PLAY: the piano...can't wait for my inlaws to retire...they are passing theirs down to us. I'll teach the girls
J. JOB: SAHM AND SAHW
K. KIDS: 4 AND PRAYING FOR 1 MORE
L. LIVING ARRANGEMENTS: hubby, 4 kids and dog
M. MOM'S NAME: Robbie (you don't want to know her full name though ha ha)
N. NICKNAME: Lizzy, Leaping Lizard, Laura, mommy or lovey
O. OVERNIGHT HOSPITAL STAY: only on 3 of my 4 kids
P. PET PEEVE: people who are late....drives me batty
Q. QUOTE FROM A MOVIE: (well tv show) "Interesting" Little Bear's favorite word
R. RIGHTY OR LEFTY?: righty
S. SIBLINGS: older brother...younger half sis and bro...and 2 older step bro and sis
T. TIME YOU WAKE UP: which time hubs alarm goes off from 5:10am- 5:45 he leaves by 6am and then I'm up again to get big kids off to school(s)
U. UNDERWEAR: hahahello yes!
V. VEGGIE YOU DISLIKE: Lima Beans
W. WAYS/REASONS YOU ARE LATE: My hubby is slower than molasses and I think he purposely goes slow knowing my panic issues w/being late.
X. XRAYS YOU'VE HAD: lots
Y. YUMMY FOOD YOU MAKE: My desserts are to die for
Z. ZOO ANIMALS YOU LIKE: none...they all smell