My
bestie
and I started back on our walking last night (and again this morning) We are back to walking 1hr in the morning and 1 hr after dinner! Did our 3 sets of lunges today too...hopefully should be feeling it tomorrow. I've gained 2 of the 4 lbs back since she left
me
for Easter. Glad you're back
bestie
!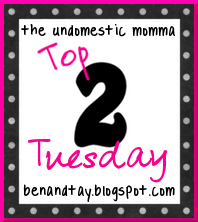 Now on to her
Top Two Tuesday
! Top 2 Favorite Magazines
1. Of course if you read my blog you know I'm a freak for Southern Living. Been an
avid
subscriber since 1996 and get their annual cookbooks to boot! Love Love Love their recipes...I have not yet been disappointed with any of their recipes! Stay tuned for Friday's Dessert I am making for my Birthday Party (yes, I'm throwing myself one.....it's for the kids really) this weekend. You will freak out at how fantastic it is! I'm freaking out just thinking about it! I'll post the recipes and pictures on Friday!
2. Semi Homemade Magazine.
Now while I don't really like a lot of her recipes. (hit or miss with about half) I love love her decorating ideas and her fun tips for cooking. Sandra Lee's childhood to adult life story is quite amazing and I am inspired by her!
Don't forget about my
giveaway