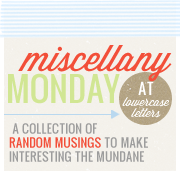 Woohoo...I've been dying to participate in Carissa's Miscellany Monday.......she's a totally sweetie so head her way now tell her hi!
1. This whole post is being typed via 1 hand thanks to a sleeping Dude Friend. I could put him down, but it's not everyday you get to cuddle w/a newborn under your chin. So I'll be thankful for my sweet DF who's a joy have in our life! I stare at him every second soaking in his beauty!!
2. Yes, you really can shower in under 5 mins (on non hair wash day)
3. Speaking of non hair washing day.....my mom bought me this
she's coming again today for the whole week......I'm so excited! I'll let you know how the product works ....ohhh the small things in life to make you happy!

4. I own 5 black nursing tanks and 3 black pairs of capris...so yes it looks like i'm wearing the same thing everyday, but really I'm not...so get over it!
5. My 14 yr old son made the lunches last week for me and took out the trash on monday night (for tues pick up) w/o even being asked. I know it doesn't seem like a huge thing...but he made the lunches for the week just like I do....for not only himself but Mini Me and Hedgie too! Made me cry....I guess I am doing something right on the motherhood train

6. Mini Me went to a Sock Hop at her school this weekend....I wish I could have gone w/her...
7. I haven't been outside the house in the past 3 weeks ...other than to check the mail...let the dog out to wee wee and drive to the midwife....and no I'm not going through withdrawals. I like to keep Dude Friend secluded for months.....Germs scare me! Besides...not wearing make up has been fun! Maybe I'm living in a lack of sleep state, but I rather like my face like this!
8. I really do like blog 'stalking'...I mean how else do you find some really fun and amazing ppl. How many times have I said..."She could soooo be my best friend" :o)