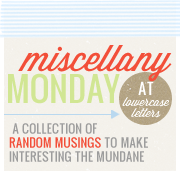 Link up to my friend Carissa over at lowercase letters for Miscellany Monday
One
It's my 17th 21st Birthday Today! If I was told correctly that was my 1st Birthday photo. I look so sweet and innocent...I'm sure I was a perfect angel!! I look back and if 17 years ago you would have told me that I would one day be a mother to 5 of those little creatures in that photo above...I'd have said you were crazy!
Here's to another 17 more.....(YEARS NOT KIDS....grins)

Two
I'll be celebrating w/some of this
and this
Yes, I'm baking my birthday cake again...wouldn't have it any other way...You know me and my baking!! Which leads me to...

Three
My most favorite food in the world would be strawberries. I guess God knew what He was doing when He picked me and my birth month. These little red balls of sweetness are in their peak in my month. I can't get enough of them right now and have to fight Little Lily for them. My favorite cake (

Triple Decker Strawberry Cake

) uses fresh strawberries in the cake mix and frosting. I've been making this cake for almost 8 years now. Be sure if you bake it to keep it cold...the icing has lots of butter and powdered sugar and that combination w/the juice from the strawberries can make a mess!
and the recipe says 1 cup of oil...that's typo..it's 1/2 cup! whew!
Four

Did you catch Extreme Couponing on TLC this past week? I inspired to accomplish this for my family. I got my coupon binder ready with tabs and I am hoping to at least bring our bill down by 50% in a few months of going EXTREME....
Do you have any tips to share that work for you? I've read up on most websites..now it's a matter of collecting the deals and applying them! I'll keep you posted!
Five
WW weigh in today...perfecting timing huh? My birthday. I ate my weight in
gold
this weekend so I'm not hoping for a good scale moment! No one to blame but myself. But I ohhhh so enjoyed being bad eating like that.
Six
I am now having regret over eating my weight in
gold
over the weekend.
Seven
April showers bring......
HAIL
It usually rains on my birthday, but last night at 12:22am I woke up to hail beating our house. B wanted to run outside and save his truck, but I wouldn't let him! All I could picture was him getting knocked out by hail and me dragging him to safety! uhh right!
Have I mentioned that gray overcast skies are my favorite? There is nothing better then opening the blinds and letting all that natural light in... curling up to read a good book..... while smelling fresh rain! I was meant for this month.