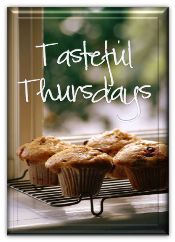 I'm finally linking up to
Kerbi's
Tasteful Thursdays. Sorry, no picture of this awesome meal, I'm making it tonight and wanted to go ahead and post now!!! This is an olive pesto using parsley instead of basil. I found this years ago (like 12) in a WW cookbook and have used this ever since. You will be amazed at how yummy it is! 6pts per serving too! Can't beat that....
Pasta with Olive Pesto
Ingredients
1/2 cup of firmly packed Italian Leaf parsley
1/4 cup pimiento
10 sm pimiento stuffed green olives
3/4 oz parmesan cheese
1/2 oz pine nuts
(toasted)
2 tsp olive oil
1 tsp red wine vinegar
1 sm garlic clove
3 cups cooked bowtie pasta
Directions
In a food processor combine all ingredients except bow tie and process until pureed, scraping down sides of bowl as necessary.
Add hot bow tie pasta in a bowl and toss w/pesto!
Super simple and super fantastic....the flavors are fresh and clean tasting....Great Light yet filling dish!

What's great about this pesto is that I make it ahead of time and keep it in the fridge until dinner! I'm all about things I can make ahead and just pop in the oven for dinner! Frees up my time to hang with the kids after school!