As Carissa says...Write your randoms and link up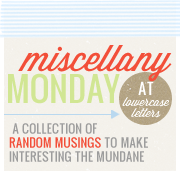 one. Holy Jal-a-pain-os
While searching Pinterst (new found ♥) I ran across this picture and dropped to my knees with infatuation. Hellooooooo Jalapeno Popper Grilled Cheese. Hubs ran to the store pronto and snapped up all the ingredients. You will make this....I'm not suggesting I'm TELLING YOU. It was so fantastic we ate them again the next day
Ingredients
2 jalapeno peppers, cut in half lengthwise and seeded
2 slices sour dough bread
1 tablespoon butter, room temperature
1 tablespoon cream cheese, room temperature
1/4 cup jack and cheddar cheese, shredded
1 tablespoon tortilla chips, crumbled
Directions
Place the peppers on a baking sheet with the cut side facing down.
Place the baking sheet on the top shelf in the oven and broil until the outer layer of the skin has blackened, about 8-14 minutes.
Place the peppers in a zip-lock bag or other sealable container, seal and let them cool until you can handle them, about 20 minutes.
Remove the skins from the peppers. The skins should easily "pinch" off.
Assemble sandwich and grill until golden brown and the cheese has melted, about 2-3 minutes per side.
Nuff said
two. Panic Alert
Panic is setting in. Summer break is nearly over and I am soooo not ready to start the year. I mean who doesn't love the smell of new shoes, school supplies and new friends? (new friends???) but it's the preparing for the whole mess that I hate. A mad dash for school stuff...Thanks to the high school teachers that don't hand out the list until the 2nd week of school and by the time you get to (insert multiple) stores trying to fill the list...they have gotten rid of all the good stuff and Halloween costumes are in the place of school stuff. (yes I should go back to class for run on sentences) I'm not ready yet for waking up early and getting kids out the door..I'm not ready for homework. I realized I have forgotten all subjects taught in school since becoming a mom....
three. Baking ♥
I do enjoy baking....so my dear friends gave me a great idea....For those that live by me...I'm taking orders for Back To School cookies...(not sure how they would ship) for 3-4" school buses, schoolhouses, and apples. I always like to do a fun treat for the first day of school...what better than a yummy cookie.
4. Bushel full

Some people have asked if we are having more kids. Funny how you only get asked that if you have one or 5+ kids. The answer...who knows. I've learned in life to never say never....Would we love more? Yep...so if God willing....Time will tell...stand by
5. More On my Bushel
I was walking into Walmart with 4 of my 5 kids....I had Lily in one buggy with big sis pushing her...another child walking along side them....and I was pushing a buggy with Reid strapped in the Moby. *side note: for those of you with babies....YOU MUST BUY THIS (or one similar) I have tried many wraps/slings and totally adore my Moby. I can't go shopping w/o it. Reid isn't a carrier rider....hates it...but hands down is the happiest child in the world strapped to me in the Moby) back to story...This older lady was walking around the back of her van pointing and smiling really big at me...I thought either a. I know her or b. I lost a kid. As I'm walking past her with my small troop she grabs her mother and says, "omg you have 4 kids...I thought wow I have to show my mother...see mom, look at all her kids. You have 4 kids" then she proceeds to laugh at me. I wasn't sure how to take this....Either she is from a country where every family has 1 child or she is just completely rude. Kate asked me why this lady was laughing at us....I had no idea. You really do find all kinds at Wallyworld huh?!

6. IKEA
This is the store I can't drag my husband too anymore after our last incident with taking Lily there...Which is totally fine by me...I leave her at home with daddy and take Reid and Oldest Child with me. (yes, be jealous...we live 15 mins from IKEA) I went in only for legs for my shabby chic desk I'm making...and came out with a sack full. Can't beat $3 baby fleece blankets and an adorable Froggy Prince Changing Pad for $2.99.
We also have one of those restaurant style wooden high chairs in espresso color (thanks Zulily) and got it for a steal....found this cushion

made for those chairs at IKEA for $4.99...And I may or may not have splurged on this white blanket. I guess since I'm making a shabby new craft desk...I need to update the whole room...let's base it around this gorgeous throw ruffle blanket
hello I'm in IKEA heaven. Add to the excitement...I found the legs for my desk for $15 a piece. I ♥ you IKEA...just not the crowds and the fact that you make me walk the whole store to get out.