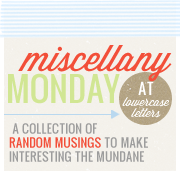 Head over to my favorite chica every Monday Morning and link up....tell us what's in your head this glorious day....
one. august 27 7:12 pm
This Saturday my baby boy turned 15. I was really not ready for this...not in the 'I don't have a cake', but in the 'I can't believe my baby is getting one step towards not needing me anymore'. I took this photo at the exact time he was born. I saw this on another bloggy and wish I had started this 15 yrs ago....I can do this with all 5 kids except Kate. She was born at 1 something am. Not gonna happen. Oldest child requested his favorite place for dinner...Babe's Chicken (no complaints from me) and my Texas Sheet Cake for dessert. I thought I posted this recipe before....This is a must make.
1 cup butter or margarine
1/4 cup baking cocoa
2 cups all-purpose flour
2 cups sugar
1 teaspoon baking soda
1/2 teaspoon salt
2 lightly beaten eggs
8 oz sour cream
1 cup water



ICING:
1/2 cup butter or margarine
1/3 cup milk
1/3 cup cocoa powder

16 ozs confectioners' sugar
1 teaspoon vanilla extract (optional)

Directions
In a large saucepan, melt the butter and then whisk in cocoa to a boil. Remove from the heat. Combine the flour, sugar, baking soda and salt; stir in sour cream and eggs until smooth. Stir cocoa mixture into sour cream mixture. Pour into a greased 15-in. x 10-in. x 1-in. baking pan. Bake at 325 degrees F for 20-25 minutes or until a toothpick inserted near the center comes out clean.

In a saucepan, melt butter; add milk and cocoa. Bring to a boil. Remove from the heat. Whisk in confectioners' sugar and vanilla until smooth. Pour over warm cake. Cool completely on a wire rack.
two. stuffed bellies
We ate like Kings this weekend thanks to his birthday festivities. (sniff sniff) Nothing like a little celebration to add to the rump area. One of the many meals that got polished off this weekend...Vanessa's Make Ahead Beefy Lasagna. Now most of you probably hate the length of making your own lasa, but take the time with this one. It freezes beautifully for those that want to half this in 2 smaller pans and eat 1 and freeze 1 for later.
Ingredients
12

uncooked lasagna noodles

1

(24-oz.) container 4% small-curd smooth-and-creamy cottage cheese

1

(16-oz.) container ricotta cheese

2

large eggs, lightly beaten

1/2 cup

refrigerated pesto

1 teaspoon

salt

2 1/2 cups

(10 oz.) shredded mozzarella cheese, divided

1 pound

lean ground beef

1/2 cup

finely chopped onion

2

(24-oz.) jars tomato-and-basil pasta sauce
Preparation
1. Preheat oven to 375°. Prepare noodles according to package directions.
2. Meanwhile, stir together cottage cheese and next 4 ingredients. Stir in 1 cup mozzarella cheese.
3. Cook ground beef and onion in a large skillet over medium-high heat, stirring often, 6 to 7 minutes or until meat crumbles and is no longer pink; drain. Stir in pasta sauce.
4. Layer 1 cup beef mixture, 3 noodles, and 2 1/2 cups cottage cheese mixture in a lightly greased 13- x 9-inch baking dish. Top with 3 noodles, 2 cups beef mixture, and 3 more noodles. Top with remaining cottage cheese mixture, 3 noodles, and beef mixture. Sprinkle with remaining 1 1/2 cups mozzarella cheese.
5. Bake, covered, at 375° for 40 to 45 minutes. Uncover and bake 20 minutes or until cheese is browned. Let stand 10 to 15 minutes before serving.
Note: Freeze unbaked lasagna up to 3 months. To bake, thaw in refrigerator 24 hours. Let stand 30 minutes; bake as directed.

three. seems like yesterday
A group was created on Fb for our high school graduating class over the weekend. Our 20 yr reunion is coming up next summer and so it's been so much fun seeing all the faces after all this time. They posted our senior pictures from the yearbook and my kids had a giggle at how young I looked. Odd that I still feel like that little girl on the inside. I told hubs how it just seemed like yesterday looking at all the photos they keep posting. His response...."well if by yesterday you mean 20 yrs then ok". It hit me....20 yrs. Surely I haven't almost been out of high school that long right? Then I look at my 10 th grader and realize it must be true.
Here have a giggle at my memories.
four. sweet sweet clouds
There are fat juicy dark clouds this morning when I walked Kate outside. Then I got hit in the eye (because I was still looking up) with a glorious rain drop. Now it may have only been a sprinkle, but anything to keep the 107' temps at bay.
five. buggy time
In a handful of weeks princess Lily goes from 2 to 3 in a blink. (I'm already tired) She has announced she wants a Bug Party. So I'm jumping on the Pottery Barn idea wagon and gonna start preparing for her "Bug Party/ Hungry Caterpillar" theme. These invitations were the inspiration.
six. hating it
My parents were in town over the weekend and left yesterday. My mom called last night and told me she left all dad's clothes in the guestroom. Good Times. I don't think they will be making the 4.5 hr drive back do you?