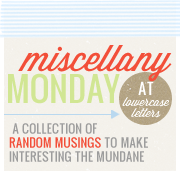 Like Carissa says, "Write Random and Link up

one. Winner Winner


#33 Sweet Ashley over at Ashley's Carnival Ride



Ashley said...
Ooh fun! I like Shabby Apple on FB!
January 5, 2012 4:17 PM
Congrats Ashley!!! Contact me with your info......
(I don't know why the # of the winner didn't show up on my image...Hubs was my witness...I assumed I followed the directions right)

two. Bugs
And not the ants or roaches kind. Don't I wish....nope, we were lucky enough to have Mr Tummy Bug come to our house again. And Mrs cough and nasty nose too. I tell you this winter has been no fun and it's really not even that cold this year. It was quite lovely having oldest child stay home Thursday and Friday... just not the clean up! The house seems to be on the mend.....stop by at your own risk
three. Fear
Well I'm 10 weeks today....the same # of weeks when I went for my check up and found out I lost the baby (before Reid) I tell myself something is wrong again b/c I don't feel pregnant ...other than the "feet dragging passing out teeth grinding" tired. Other than that...I feel normal. Which always has me freaking out. I go next Tuesday for my appt I have mixed feelings. All I want for her to say is...Yep there's the heartbeat...all is well, but it seems like yesterday I was hearing the words...."I'm sorry, but I think there is something wrong" I need to learn to settle and not worry so much. Easier said than done, but it's the not knowing and waiting that makes these first 12 weeks so hard. I hoped going in for the ultrasound a few weeks ago would calm my fears...and it did..for a bit..... we need a window to peek inside whenever we want to make us mommy's settle.

four. Clippy
The other day Lily and I were playing beauty salon. I sit in the floor and she gets all the brushes and sprays and bows to make me pretty. She said she was going to get the 'clippy' to fix my hair. I assumed she meant clips....I can hear her coming up behind me saying something like "yea I've got clippy...now I'll fix your hair". Something made me turn around just as she was 6" from me with the scissors opening and closing. WOOHOO...that was a close one. Imagine if I didn't turn? I would be sporting a really short do
five. Mini Me and Dude
Both have birthday's coming up....Mini Me's birthday is in 17 days (she keeps reminding me daily of the updated countdown) I am running out of themes for her...I think we might do an after school Ice Cream Sundae Bar. She has already requested some decorated cookies to take to school. Aww her last year of Elementary...when you can take treats on your birthday. Sad she's growing up....what happened to my sweet little 4 yr old? For Dude I was going to do the tractor theme...but modified it to a barnyard theme. Send ideas my way please.
six. Aunts and Uncles
My Aunt and Uncle are coming to visit me this weekend. I am thrilled...I can't even imagine how long it's been since I've last seen them...and I'm really excited they get to meet all my kids (how sad I can't remember if they have met any) I was telling the kids who was coming. And of course I get the ...."wow you still have aunts and uncles...." ugh...Yes kids...ALL OF MOMMY'S AUNTS AND UNCLES ARE STILL LIVING. (thankfully) I tried to explain they are my parents age...but I think that goes right over their heads. I mean anything older than 30 is ancient right?!.......I must say I am thrilled....I need to whip out my recipes and wow them with something yummy!

six. Peppa Pig
Lily has another new obsession. I have to agree....I love Peppa...her accent is adorable and it's especially fun hearing their different words for things and having a discussion with Lily about them...ie a shopping buggy is a trolley. Lift for elevator. Wellies for rainboots ..... The other day we were at the grocery store and Lily pointed to some Tomatoes and said it just like Peppa.....I had a huge giggle...Funny how she picked up Peppa's accent for the red fruit/veg and thinks that is the correct accent for it. I don't think I'll correct her...I think hearing "toe-ma-toe" sounds much prettier.

seven. Poll
Upper right corner of blog you'll see a cowgirl/cowboy poll. The cowgirls are winning...place your bets